Varenyky "Mishutka" with potatoes "Pіureshka" by TM Three Bears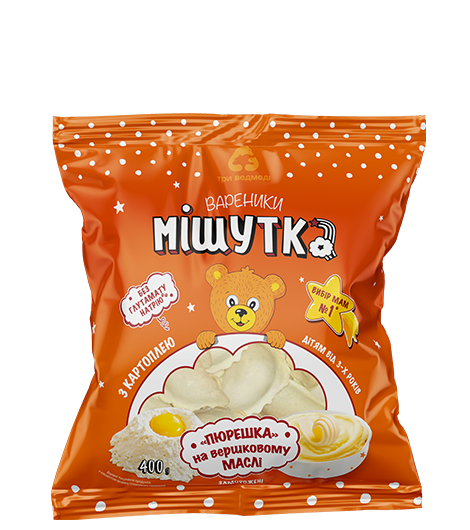 INFORMATION
TU U
15.8-31450478-001-2003
Number in the box, pcs.
10
NUTRITION VALUE PER 100 g OF PRODUCT
Energy value, kJ/kcal
832,6 / 199,0
DESCRIPTION
The tender varenyky with mashed potatoes: potatoes, cream and butter. And if you imagine that these were not varenyky but clouds, then you might come up with a whole story about Mishutka who rode on a cloud.
The dumplings and varenyky "Mishutka" - "Moms' Choice №1 in 2020".
*According to the marketing study on measuring the level of awareness, consumption, perception of pelmeni and vareniki by TM Mishutka among mothers with children aged 3-12 who bought dumplings and varenyky for their children for the last three months, in the number of 400 respondents in the Ukrainian cities with population 100K + (except for the Autonomous Republic of Crimea and Joint Forces Operation zones).